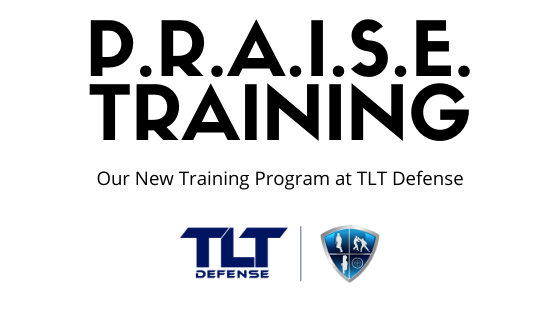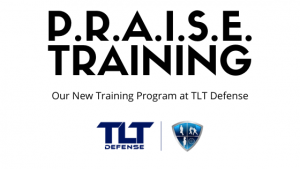 At TLT Defense we have taken the last 5 years training ourselves in Violence Management. We've learned from F.E.M.A., Department of Homeland Security (DHS), Advanced Law Enforcement Rapid Response Training, and USCCA. With all of that training we have come up with our P.R.A.I.S.E. Violence Management Training System. Our P.R.A.I.S.E. training is the only Violence Management System that you will ever need because it teaches you how to prevent the violence before it starts. If that is unsuccessful, P.R.A.I.S.E. teaches you how to survive the violence, with Run-Hide-Fight and we also include CPR Training and Stop the Bleed training that can be used in any situation, not just violent encounters.
In-person training provides the most benefit for creating a simulated environment to practice P.R.A.I.S.E. TLT Defense understands that this is not always possible. Our online P.R.A.I.S.E. training will demonstrate the basics of what is necessary to stay safe during an attack such as an active shooter event. We also discuss how to treat injured individuals while waiting for emergency services to arrive. Our save lives section isn't just for active shooter type events. These skills can be used anytime a person is in need of immediate care and EMS is minutes away or even longer.
TLT Defense is the only company that teaches ALL aspects of an active shooter event with our P.R.A.I.S.E. Training program. Police departments and other companies like ALICE only teach how to react during an active shooter. TLT Defense teaches so much more.
Our Trademarked P.R.A.I.S.E. Program will help you not only survive an active shooter but it teaches you how to prevent it from happening and how to save lives if the unthinkable does happen.